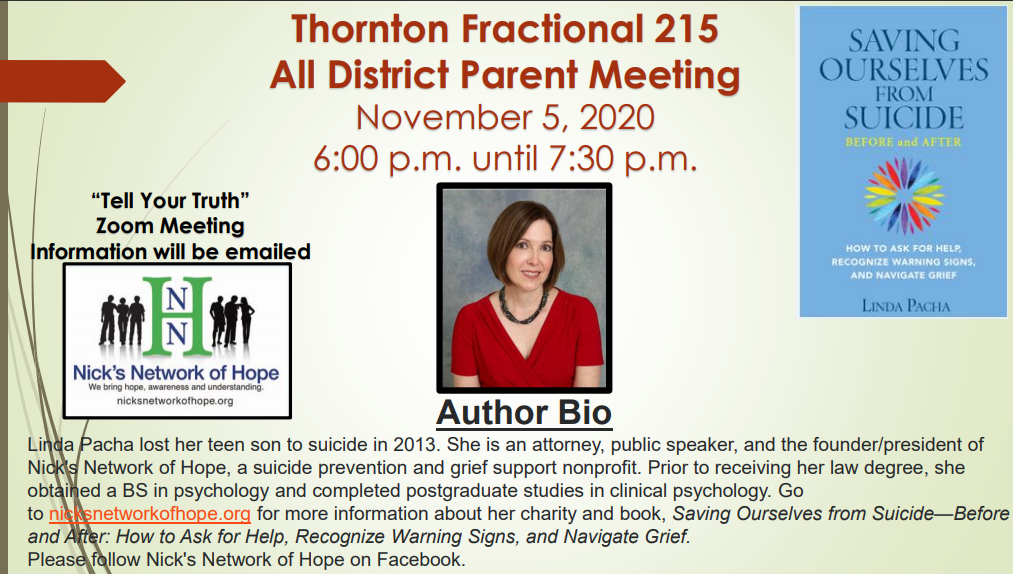 Regular PAB Monthly Meetings
PAB meetings are the third Thursday of each month from 6:30 - 7:30 PM. Please join using this link.
September 17, 2020
October 15, 2020
November 19, 2020
December 17, 2020
January 21, 2021
February 18, 2021
March 18, 2021
April 15, 2021
May 20, 2021
---
Welcome
We would like to welcome you to the parents section of Thornton Fractional North's website. This page is sponsored by TF North's Parent Advisory Board. The PAB's primary focus is to encourage communication, decision making, and partnering among the school, parents, and the Calumet City community.
Our goal with this website is two-fold:
To provide easy to navigate access to information and services important to parents.
To provide information to the District 215 community on issues such as the importance of parent/guardian involvement in their child's education and school. We hope you find our website easy to navigate and that it provides useful information.
If you have any suggestions for improvements, please don't hesitate to send us a note with your ideas! This site has been designed by parents for parents, and we would be delighted for more ideas! We would also like to invite you to become a member of TF North's Parent Advisory Board and the TFN Booster Club!
Also, School Board meetings are open to the public! They are scheduled for the 4th Tuesday of every month (scheduling changes will be announced at the previous month's School Board meeting as needed) and are held in the TF Center for Academics and Technology on Wentworth Avenue in Calumet City.
Important information and forms needed for various school-related purposes are listed to the right, along with a calendar of Parent Advisory Board events. For opportunities to volunteer, please visit the Volunteer Opportunities section of the Parent Resources website. For more information about the PAB, please phone (708) 585-7027 or email Socorro Evans @ sevans@tfd215.org, or Tonya Reed @ treed@tfd215.org.
We hope to share a wonderful school year with you and the TFN Community!
Socorro Evans, TFN Parent Liaison
Tonya Reed, TFN Parent Liaison
Calendar

‹

October

2020

›

S
M
T
W
T
F
S
1
2
3
4
5
6
7
8

Oct 8

Parent-Teacher Conferences (NO CLASSES)

9
10
11
12

Oct 12

NO SCHOOL - Indigenous Peoples Day (Columbus Day)

13

Oct 13

Hispanic Heritage Month Spirit Week

Location:

Wherever you are! Post on Twitter, IG, or FB!

Hey, Meteors! Let's ride Hispanic Heritage Month out with fun and style during next week's SPIRIT WEEK! Tweet/IG yourself each day using #TruNorth and #TFNOrgullo!

14

Oct 14

Hispanic Heritage Month Spirit Week

Location:

Wherever you are! Post on Twitter, IG, or FB!

Hey, Meteors! Let's ride Hispanic Heritage Month out with fun and style during next week's SPIRIT WEEK! Tweet/IG yourself each day using #TruNorth and #TFNOrgullo!

15

Oct 15

Hispanic Heritage Month Spirit Week

Location:

Wherever you are! Post on Twitter, IG, or FB!

Hey, Meteors! Let's ride Hispanic Heritage Month out with fun and style during next week's SPIRIT WEEK! Tweet/IG yourself each day using #TruNorth and #TFNOrgullo!

6:30 PM to 7:30 PM

Parent Advisory Board (PAB) Meeting

16

Oct 16

Hispanic Heritage Month Spirit Week

Location:

Wherever you are! Post on Twitter, IG, or FB!

Hey, Meteors! Let's ride Hispanic Heritage Month out with fun and style during next week's SPIRIT WEEK! Tweet/IG yourself each day using #TruNorth and #TFNOrgullo!

17
18
19

Oct 19

NO SCHOOL - Remote Planning Day

20
21

Oct 21

10:00 AM to 12:15 PM

Southern Illinois University Edwardsville Admissions Workshop

Students can sign up here. They will be notified of their interview time.

Please let me know if you have questions!

Allison Braasch, School Counselor

Juniors, Seniors A-Go

Connections Sponsor

(708)585-1018

22
23
24
25
26
27

Oct 27

8:00 AM to 2:00 PM

SAT Testing

Location:

Purple & Gold Gyms

Seniors must register in advance. Contact your Guidance Counselor for more information.

28
29

Oct 29

10:00 AM to 12:15 PM

Eastern Illinois University Virtual Admissions Workshop

Eastern Illinois University Virtual Admissions Workshop! 10-12:15 on Thursday, October 29th! Seniors can sign up to meet with an admissions representative and potentially be admitted on the spot! Sign up for an interview time here!

30
31