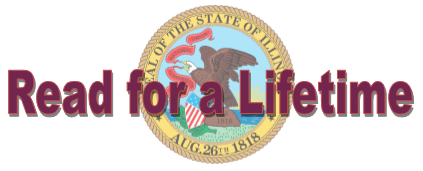 SUBMIT YOUR TITLES HERE! The deadline to submit is April 14, 2022.
---
Read for a Lifetime is a statewide reading program that targets high school students. This initiative promotes the enjoyment of reading by encouraging students to read both classic and contemporary literature, and rewards them for their efforts. By participating in the program, students develop a love of books and reading that will last a lifetime.
Illinois high schools participating in the program receive a list of 25 book titles, which represents a mixture of classic and contemporary literature.
Each student who reads at least four titles from the posted booklist during the school year will receive a certificate of achievement signed by Secretary of State and State Librarian Jesse White.

All books must be read and reported to Ms. DeSoto by April 14th.
Program Statistics
Over the history of the program 19,567 students and adults from more than 500 high schools and public libraries throughout Illinois have read 90,777 books.

490 high school seniors have received special recognition for having completed the program requirements during all four years of high school.

161 students have read all 25 books on the list in a given school year.

12 high school seniors have received special recognition from Secretary of State Jesse White for completing the program requirements all four years, by reading all 25 titles each year.
---
2020-2021 Read for a Lifetime Booklist & Award Recipient
2019-2020 Read for a Lifetime Booklist & Award Recipients
Esenia

Banuelos

Jimena Esparza
Valeria Ezparza
Edgar Guzman Jacobo
TeKyla Manuel
Benjamin Munoz
Litzi Ramirez
2018-2019 Read for a Lifetime Booklist & Award Recipients
Aguilar, Andrew
Arriaga Hernandez, Karyme
Banuelos, Esenia
Chaparro, Gabi
Cordova, Alexis
Cruz, Dayana
Diaz, Emily
Dillard, Malik
Gamble, Chanyrah
Garcia Merino, Javier
Godina Correa, Edgar
Gonzalez, Caroline
Gonzalez, Princess
Gray, Isis
Harper, Briana
Hernandez, Toby
Hester, Breiyan
Hodges, Mikyla
Kindred, Angel
Maxey, Eleanor
McDonald, Kaylah
Melendez, Denise
Owusu, Godrein
Paige, Kaylin
Smith, Ariana
Valdivia, Michelle
Winburn, Alicia
Information gathered from Illinois Center for the Book.