TFD Center for Academics and Technology Photos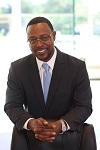 Principal's Message
John Robinzine
April 9, 2020
Dear T.F. Center Families:
First, I would like to thank all of our staff, parents and students for your continued efforts during this extended interruption of school due to the spread of COVID-19. This process can be overwhelming, with it being new to all of us!
On Tuesday, March 31, 2020, Governor Pritzker announced that remote learning in Illinois would be extended through April 30, 2020 to slow the spread of COVID-19. A remote learning day is defined by the Illinois State Board of Education (ISBE) as an educational program designed to provide continuation of learning for students under conditions that prohibit the learner and instructor from being in the same physical space. We are amending our existing eLearning plans to accommodate the guidelines established by ISBE.
On Monday, April 13, 2020, we ask that all students log-in (as they did prior to spring break) by 9:00 a.m. This will also be the first A/B schedule day for students as outlined in the schedule that was forwarded to you by Superintendent, Dr. Teresa Lance. This plan will be in effect until the Governor reinstates onsite instruction. Every student will receive a welcome back letter from their teachers. This letter will outline specific expectations from each teacher, as well as other particulars.
As outlined by Superintendent Lance, our three priorities for our leadership and planning moving forward include: Priority 1: Provide meals to our student scholars while considering the social and emotional needs of everyone, including our staff and community at large. Priority 2: Communicate clearly and frequently. Priority 3: Provide for the continuity of learning in our schools.
T.F. Center office hours during the extended closure are Tuesday thru Thursday, 9:00 a.m. – 1:00 p.m.
Remember, if you have questions, you can email covid.closure@tfd215.org. We also share updated information on our district website and social media accounts. You are encouraged to keep up with all District 215 news and updates by visiting www.tfd215.org, liking District 215 on Facebook, and/or following @tfd215 on Twitter. Parents/families, staff and community members can also download the District 215 mobile app for instant notifications.
Again, we appreciate all of your efforts to ensure that we remain safe and sound.
Yours in Education,
John M. Robinzine, Principal