TFD Center for Academics and Technology Photos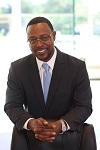 Principal's Message
John Robinzine
Dear T.F. Center Family,
District 215 Board of Education unanimously voted to move forward with Remote Learning for the remainder of the 1st Semester. We are committed to working diligently to keep our students and staff safe. We will continue to provide academic initiatives, social supports, and incentives to help keep our students on track. As we move forward with our remote learning platform, please continue to monitor your child's academic progress via Power School. We also encourage students to regulate their own progress on a daily basis and we will work diligently to provide them with resources and incentives to do so. You can always feel free to contact your child's teachers with any questions and/or concerns as well.
We are hosting our Virtual Parent Teacher Conferences on Thursday, October 8th, from 2:00 p.m. - 4:30 p.m. and from 6:00 p.m. – 8:00 p.m. Parents received a notification to schedule virtual appointments with their child's teachers. The deadline to schedule appointments is Tuesday, October 6th.
Thank you to all parents and students for going the extra mile to do the best you can during these trying times to support us. We will continue to go the extra mile to ensure student success. It takes a Village!
Stay safe!
Yours in Education,
John M. Robinzine
Principal