TFD Center for Academics and Technology Photos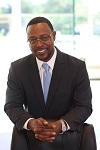 Principal's Message
John Robinzine
January 5, 2021
Dear T.F.C. Families,
The District 215 Board of Education determined that our District will resume classes on January 5, 2021 in a remote-only setting. This determination, which we know will be welcomed by some and a disappointment to others, was based on the ongoing pandemic data in our communities along with the results of our survey that showed an overwhelming majority of our families not yet ready to return to our buildings.
We recognize the struggles everyone is confronting daily in the face of this pandemic and all the ways it continues to change our lives. The top consideration in the decision to remain remote for the immediate future is the safety of our more than 3,000 students and several hundred staff members. We do see light at the end of the tunnel with the eventual rollout of vaccines and will continue to monitor the situation to determine when we might be able to safely allow certain groups of students to return to in-person learning and pledge to keep you informed of any changes to remote status. Please note the following:
Teachers will continue to hold virtual office hours for students from 2-3 p.m. each weekday except for Wednesday.
The District will continue providing meals at T.F. North and T.F. South once we return from break on all days school is in session from 11 a.m. to 3 p.m. and can provide delivery services, if needed (email requests to mealdelivery@tfd215.org).
Our I.T. Team continues to be available for assistance with any technical difficulties experienced during remote learning (email: elearning@tfd215.org).
Our student activities will continue to meet remotely, and we continue to wait for guidance from the IHSA and Illinois Department of Public Health about the potential for sports and will keep you updated as more information becomes available.
Wednesdays will continue as student support days, with teachers offering individual outreach, enrichment, and assistance through individual appointments with students or small groups of students. We will not run the usual bell schedule on Wednesdays and students will be informed by Monday afternoons if they are required to meet with teachers on Wednesdays.
Students who are changing any classes at the start of second semester should expect to receive class Zoom links from teachers via email on or before Monday, January 4, 2021.
Please know that the entire District 215 community is committed to supporting students and families during these difficult times. I hope that, though they will not be anything like we usually expect, you and yours are able to find peace, warmth, comfort, and safety during the holidays ahead. I am incredibly proud of the resilience that has been exhibited by so many of our staff and students in the face of difficult circumstances. I frequently share with others that today's students have developed skills and mindsets that will help mold them into the next "Greatest Generation." As the situation continues to evolve in early 2021, I promise to keep you informed of any developments or updates to our remote learning status. Thanks for all you do in support of one another. One day, this will pass.
Yours in Education,
John M. Robinzine, Principal