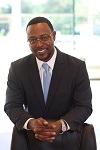 PRINCIPAL'S MESSAGE
John M. Robinzine

Dear T.F. Center Family,
One critical component of individual student and school-wide success is effective school-to-home communication. As we embark on planning for the 2020-2021 school year, we realize that unusual times calls for unusual measures. Within these webpages, we will work diligently to keep our T.F. Center family updated as we receive guidance from our District Office and the State. With that being said, please take a glance at the following information, including important events and dates that will help you prepare for the upcoming school year.
T.F. South's parade-like graduation event is Wednesday, June 24th, from 9:00 am – 6:00 p.m., and T.F. North's is Thursday, June 25th, from 9:00 am – 6:00 pm.
If your student will be enrolled in our Freshmen Academy for the 2020-2021 school year, we will be hosting a virtual Freshmen Academy Parent Orientation meeting on Thursday, July 30, at 6:00 p.m. Parents and students will receive an invite with the link to the virtual meeting in the coming weeks. You will have an opportunity to speak with administrators, ask questions regarding the Freshmen Academy program, and receive pertinent information regarding program expectations. The PPS Director and school counselor will also be available to address concerns regarding the number of credits your student has and discuss the Credit Recovery process.
In closing, to the Class of 2020, you are the ultimate CLASS ACT! The endurance that you have demonstrated to all of us is historic. Although disappointing in many ways that you/we were not able to celebrate your milestone accomplishments, please remember that the sun will always shine above the stormy clouds. Keep rising above those clouds and continue to be persistent in achieving your dreams! We are so proud of you!
Thank you to all parents and students for going the extra mile to do the best you can during these trying times. Thank you to the teachers and staff for making the extra efforts to service our students. It takes a Village!
Stay safe!
Yours in Education,
John M. Robinzine
Principal