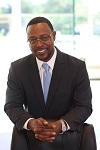 PRINCIPAL'S MESSAGE
John M. Robinzine

November 19, 2020
Dear T.F.C. Students and Families,
Thank you for providing feedback to District 215 about how we might better support you during second quarter. After listening to many voices, we have implemented a new schedule on Wednesdays, beginning on November 4, 2020. Moving forward from this date, Wednesdays will be called "Student Support Wednesdays." Rather than running Zoom classes on a traditional bell schedule, teachers are being given the flexibility to reach out to specific students in need of support either one-on-one or in groups.
No new work will be assigned on Wednesdays. We hope that this new Wednesday schedule will help support and improve our current remote learning experience as well as the academic success rate for students. As has been prior practice, teachers will also remain available to assist or respond to individual students on Mondays, Tuesdays, Thursdays, and Fridays between 2:00 and 3:15 p.m.​
As we approach the end of the 1st semester, we will continue to provide additional academic interventions, social supports, and incentives to help keep our students on track. As we move forward with our remote learning platform, please continue to monitor your child's academic progress via Power School. We also encourage students to regulate their own progress on a daily basis and we will work diligently to provide them with resources and incentives to do so. You can always feel free to contact your child's teachers with any questions and/or concerns as well.
As always, thank you for your continued efforts and support during these difficult times.
Yours in Education,
John Robinzine, Principal