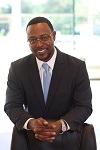 PRINCIPAL'S MESSAGE
John M. Robinzine

September 4, 2020
Dear T.F. Center Family,
One critical component of individual student and school-wide success is effective school-to-home communication. Within these webpages, we will work diligently to keep our T.F. Center family updated as we receive guidance from our District Office and the State. Please take a glance at the following information, including important events and dates that will help you prepare for the upcoming school year.
Everything counts….attendance, grades, and behavior. Even through the unusual times that we are currently experiencing, we encourage all students to fully engage in the remote learning platforms every period, every day! Attendance is just as important as it would be if we were in a brick and mortar setting. Studies show that attendance has a direct correlation with academic success. Behavior is a vital component in maintaining an environment that is conducive to learning, even in a remote setting. Teachers are diligently working on creating an academic and socio-emotional safe zone for all students. They are continuously planning and implementing remote lessons, with an emphasis on rigor and relevancy, to ensure that effective teaching and learning is frequent.
We will continue to provide academic initiatives, social supports, and incentives to help keep our students on track. As we move forward with our remote learning platform, please continue to monitor your child's academic progress via Power School. We also encourage students to regulate their own progress on a daily basis and we will work diligently to provide them with resources and incentives to do so. You can always feel free to contact your child's teachers with any questions and/or concerns as well.
T.F. Center parents, please join us for our first Parent Listening Session on Tuesday, September 15th, from 6 p.m. – 7 p.m. This will be the first of two session we would like to host for parents this semester. The purpose of the session is to foster positive relationships and positive communication with parents and the community. Our goal is to "listen" to concerns you may have and address them accordingly. For this first session, we will listen to how families are coping with remote learning and/or any other social issues that may be directly impacting their families and community.
The Class of 2021 is required to take the SAT exam in order to fulfill graduation requirements. Seniors will have the option of taking the exam, here at T.F. Center, on Wednesday, October 14th or Tuesday, October 27th. A survey regarding the SAT options was sent via email to senior students and must be completed by Friday, September 11th.
As always, thank you for your continued support and stay safe!
Yours in Education,
John M. Robinzine
Principal