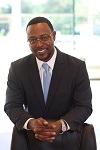 PRINCIPAL'S MESSAGE
John M. Robinzine

Dear T.F. Center Family,
One critical component of individual student and school-wide success is effective school-to-home communication. Within these webpages, you will find important information about our school. We will work diligently to make sure our page is updated regularly. With that being said, please take a glance at the following information, including important events and dates that will help you prepare for the upcoming school year.
Our fall book pick-up dates are Monday, August 5 through Wednesday, August 7, from 9:00 a.m. – 12 p.m. and 1:00 p.m. – 3:00 p.m. Registration will be by appointment only on Monday, August 12, through Friday, August 16, 2019. Please contact Ms. Lisha McAfee at 708-585-9401. No Registration will take place on Monday, August 19, and Tuesday, August 20.
Classes will resume on Monday, August 19. We are working diligently to prepare for an exciting and rewarding 2019-2020 school year. We hope you have a safe and productive summer break, and we look forward to seeing you soon.
Yours in Education,
John M. Robinzine
Principal