Scholarships & Internship Opportunities
South Suburban College Summer Bridge Program
If you are planning to attend South Suburban College this summer, there is an opportunity you do not want to miss.
South Suburban College (SSC) is providing an opportunity for 30 first-year, first-time students to earn seven free college credit hours in eight short weeks. The new First-Year Experience (FYE) Summer Bridge Program will provide free tuition, books, and fees, one-on-one tutoring, mentoring activities, and leadership development.
The goal of the Summer Bridge Program is to help students begin their college experience in a focused environment, strengthen their academic skills, meet new friends while developing a peer support network, and become more familiar with the SSC campus and its resources.
Those interested in applying for the Summer Bridge Program are welcome to attend an informational session on April 14. Two options will be available via Zoom at 12 p.m. and 6 p.m. A confirmation email will be sent with details to access either session after registration is complete.
An English, reading, and math placement test are required prior to admittance into the Summer Bridge Program. The application deadline for this program is May 25. Options for orientation are available on either June 1 or June 2. The program will run Mondays through Thursdays from 9 a.m. to 12:45 p.m. from June 6 through August 1, 2022.
If you have any questions about this program, please feel free to contact me via email at wbivins@tfd215.org.
South Suburban College
Highway Construction Training Program
South Suburbans Highway Construction Training Program is available to students ages 18 & up, who are interested in learning about various trades.
Registration Opens May 1st and stays open until Orientation
Summer Orientation Dates - June 21-23 Summer Start Date July 18, 2022
The goal of this program is to get enrollees into an apprenticeship program upon completion.
Students will obtain 7-10 Certificates while in the program:
OSHA 30
CPR
Welding Practices
Forklift
Crane Safety & Rigging
Applicants will need:
Driver's license
High school diploma or GED
Passing score on an entrance exam
Go through an interview process
For more information go to their website by clicking HERE or email wbivins@tfd215.org.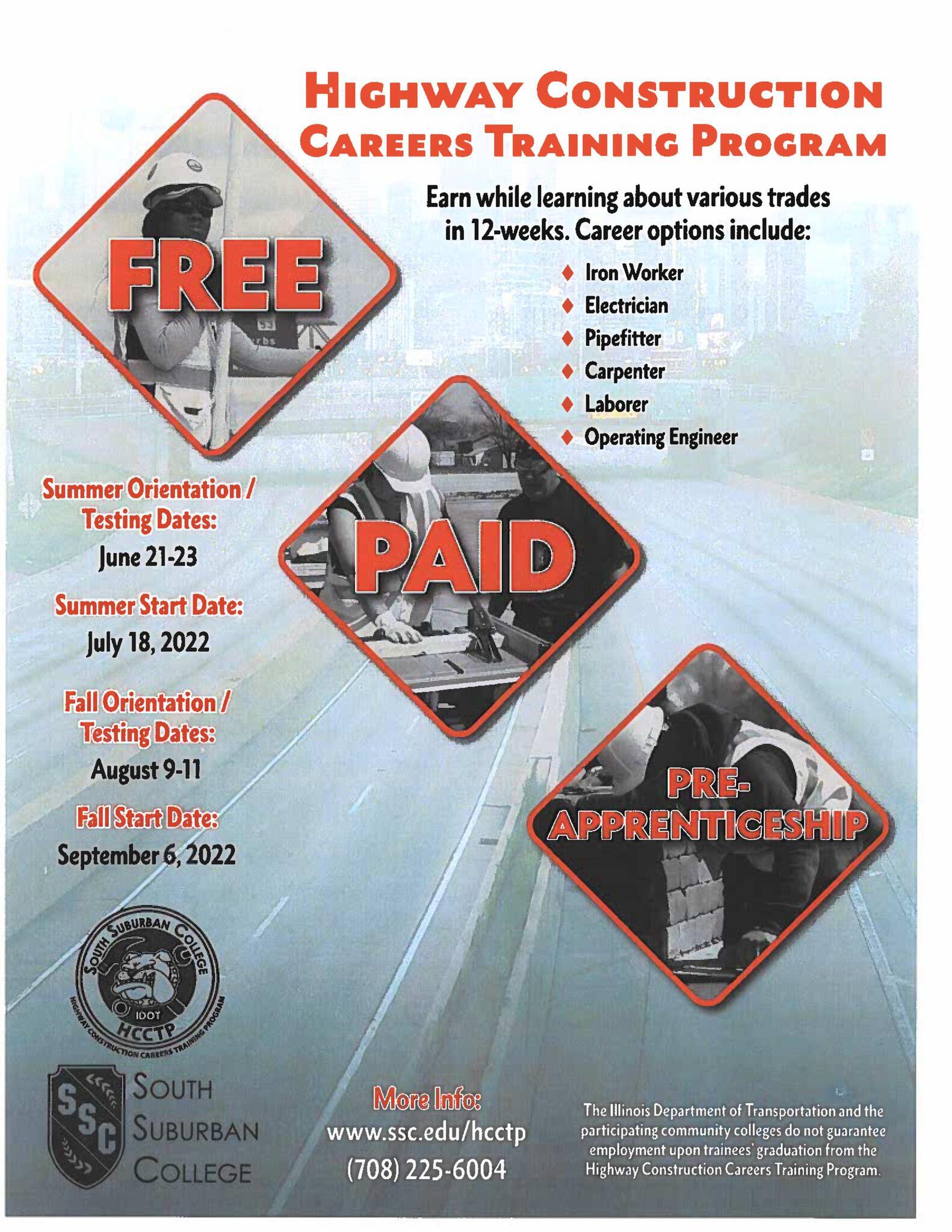 CAIC Manufacturing Bootcamp
Hello School District 215 Students, Families, and Community Members:
We have a great opportunity for our graduating seniors, postgraduates, and adults in our community! The Career Development Department in partnership with the Calumet Area Industrial Commission has organized a FREE manufacturing training bootcamp. Please see the flyer below.
Classes for the manufacturing training bootcamp will operate Monday-Thursday, 8am-1pm, June 6-July 12, 2022 at the Center for Academics and Technology.
Besides the fact that there is no cost for enrollment, here are some additional benefits of this FREE Summer Training Bootcamp in Manufacturing:
National Safety Council Forklift Certification
OSHA 10 Safety Standards Certification*
South Suburban College Certificate of Participation
Plant tours and interviews with potential employers
Opportunity to interview with manufacturing employers for job placement opportunities (starting pay at least $16/hour)
Opportunity to register for community college classes and earn certificates, including an Associate Degree in manufacturing-related fields at no cost to the participant
All interested individuals may conveniently register at the QR Code in the flyer! For additional information, please contact Ricardo D. Johnson, the Director of Career and Technical Education, at rjohnson@tfd215.org and/or (708) 585-1110.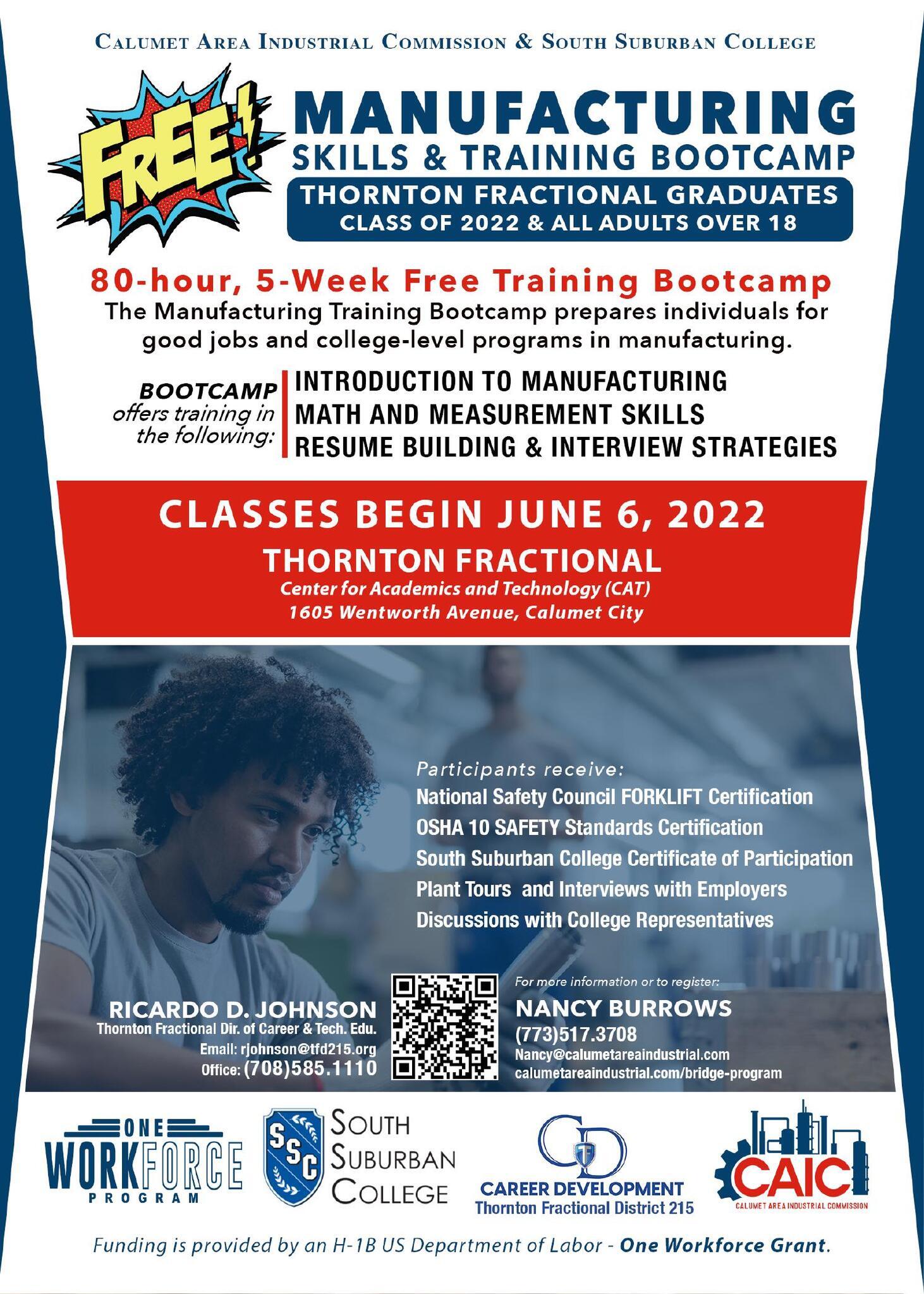 US GLU-LAM Internship Opportunity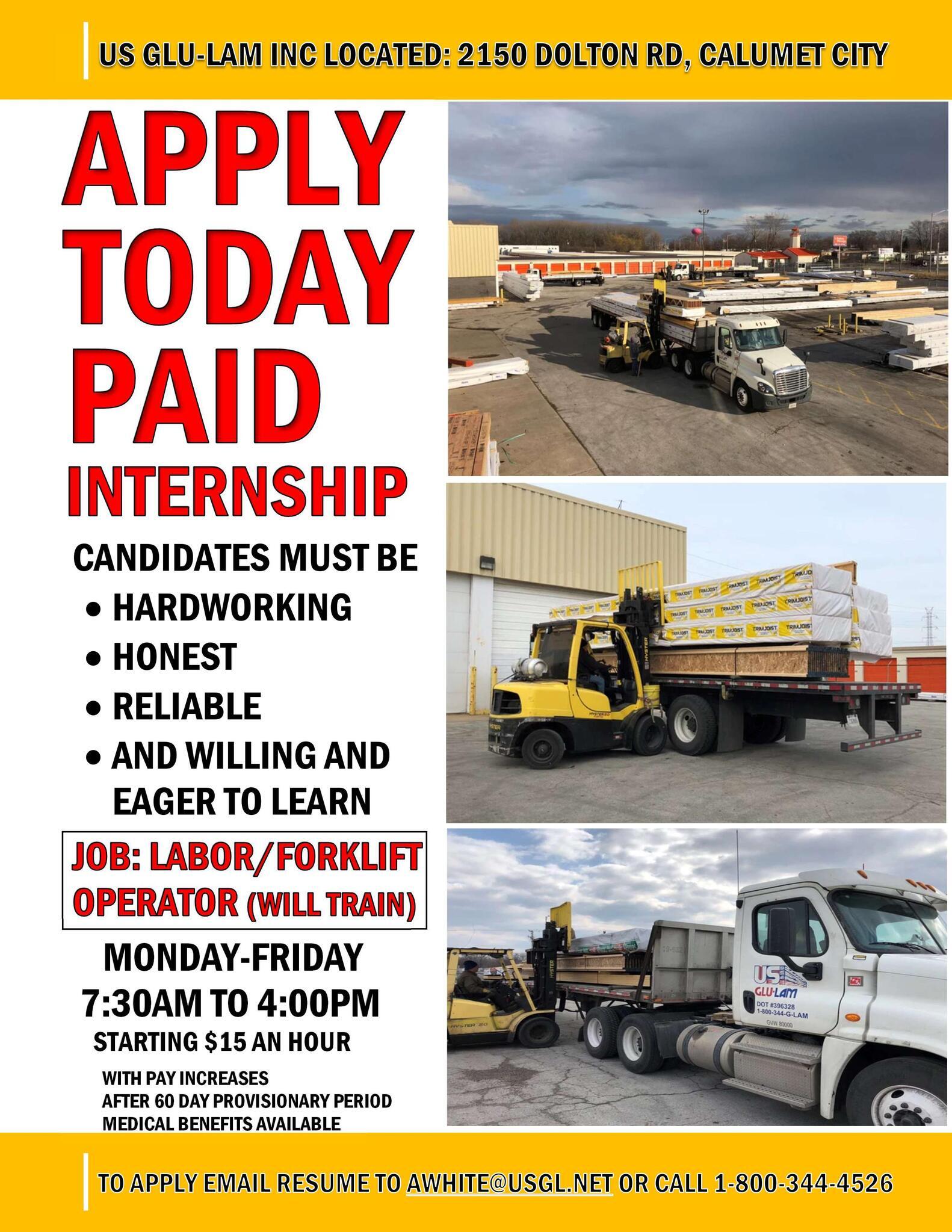 Junior & Senior Students Interested in Graphic Design

Paraprofessional License Program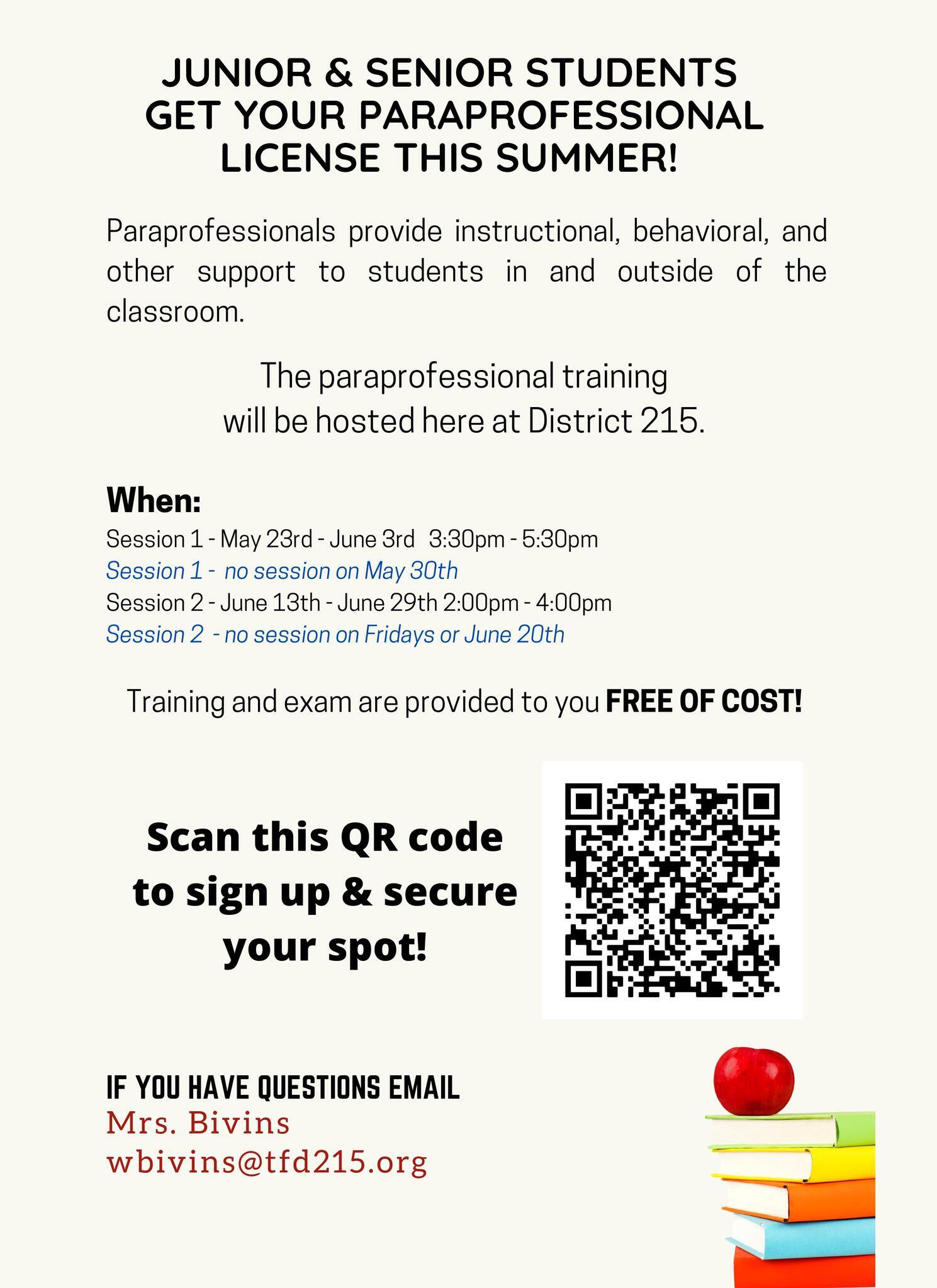 To sign up click HERE
Email wbivins@tfd215.og if you have any questions!
Summer Youth Employment Program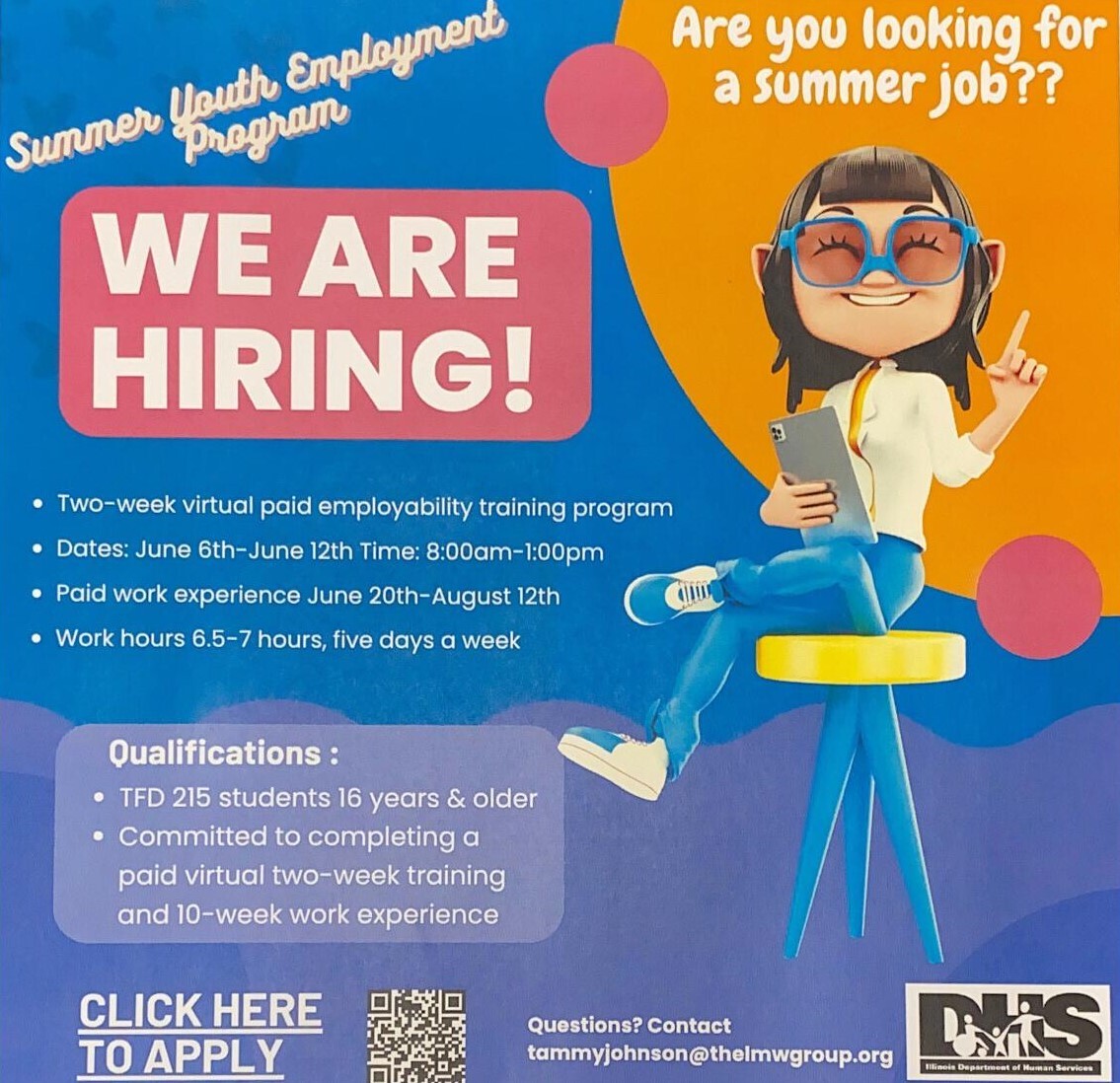 To sign up click HERE
Students interested in joining the Education Profession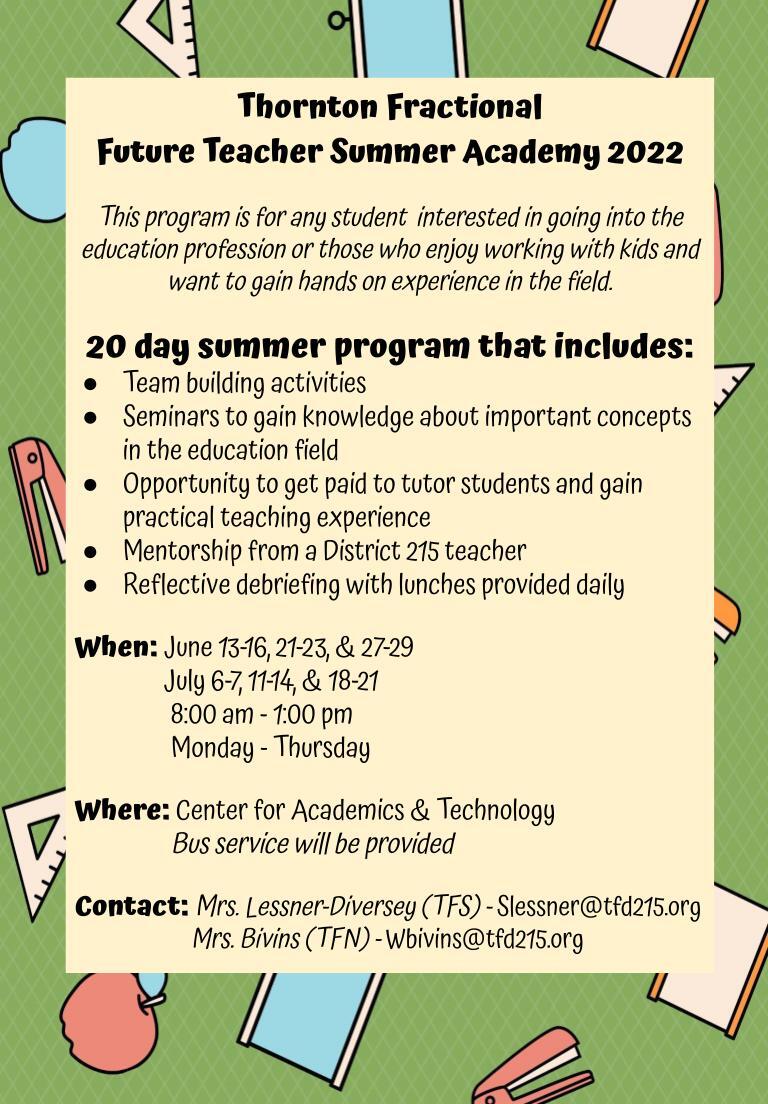 Fire & EMS Camp - Saturday, June 18th, 2022
Registration Deadline: June 8th
Registration Form < Click here to download the registration form