Barbering & Cosmetology Cohort 2025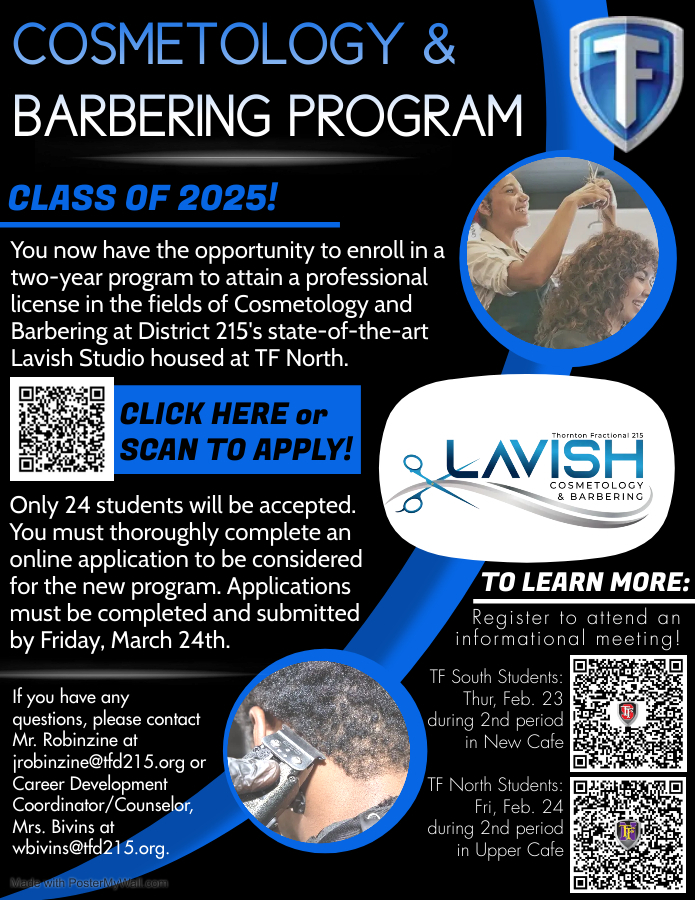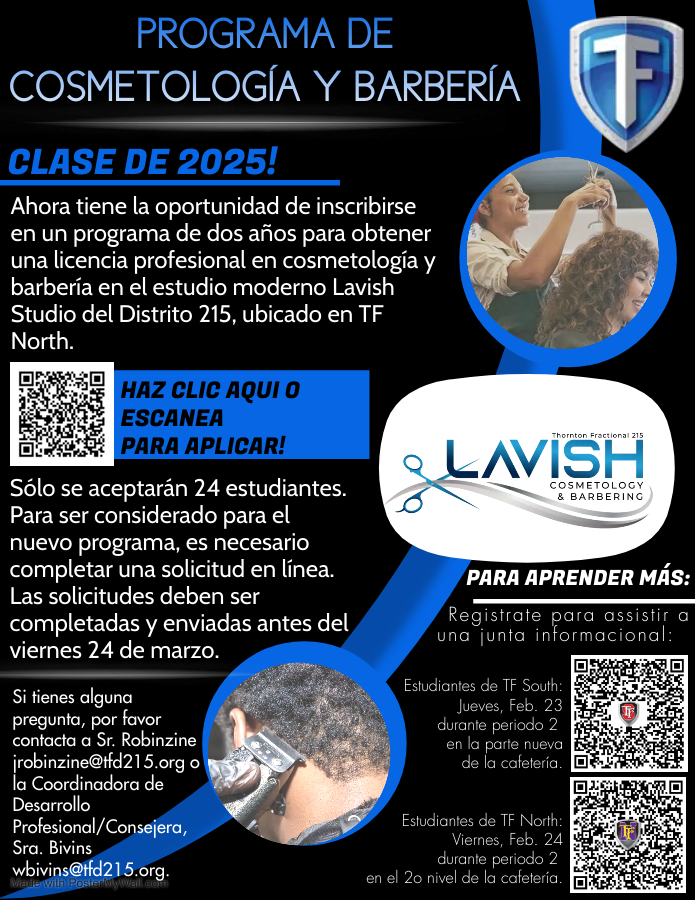 Greetings, Class of 2025!
T.F. District 215 has successfully opened the Lavish School of Cosmetology and Barbering at TFD 215, including the state-of-the-art Lavish Studio at TF North. We began the new Cosmetology and Barbering programs in the Fall of 2023. We are now offering Sophomore students an opportunity to enroll in a two-year program to attain a professional license in the fields of Cosmetology and Barbering. These programs will provide an excellent opportunity for those of you who are interested in pursuing a career as a stylist, barber, nail and foot technician, wig maker, and much more!
The TF District 215 Barbering and Cosmetology program offers students hands-on training in the art, skill, and science used in the barbering and cosmetology businesses. For barbering, this includes the design of hair, facial services, chemical services for hair, installation of temporary hairpieces, salon operations, and barber and a salon professional license review. For seeking a license in the cosmetology and beauty profession, the program sequences are student-focused and committed to providing each student the knowledge, training, and confidence needed to succeed in this field.
Throughout this two-year training program, emphasis will also be placed on essential salon and barbering services and techniques, business strategies such as customer service, client retention, salon retailing, target marketing, and people skills. The first quarter (9 weeks) of the 2023-2024 school year will be devoted to theory practices in a classroom setting.
For those of you who are interested, there will be an application process to select 12 Barbering students and 12 Cosmetology students to participate in the two-year program. Yes, you must thoroughly complete an online application to be considered for this program and you will see the online application link below. Applications must be completed and submitted by Thursday, March 8. Incomplete and/or late applications will not be considered.
Requirements to be eligible for enrollment in the program are included on the online application. Please note, although we have not established a cumulative GPA requirement for the program, one of the questions will ask for your cumulative GPA. If you need to attain cumulative GPA and credit information, please contact your school counselor.
Any questions please contact Mrs. Bivins via email at wbivins@tfd215.org.
APPLICATION LINK: https://forms.office.com/Pages/ResponsePage.aspx?id=MIQ8Tu-y5k-I4ZoOP2OQVaFVzpBKT9tFlgM_-DQjR81UQU9JVEM5UDM3M1QzUUdaVzFWRUIzTDVSVy4u
Barbering/Cosmetology Information Meeting - Cohort 2024