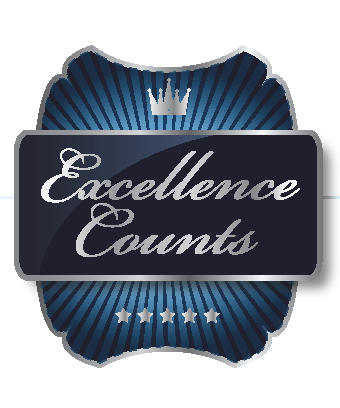 District 215 has an abundance of committed individuals - teachers, support staff, parents, and community members - who work unselfishly to make our schools and district successful.
Excellence Counts is an award that the Board of Education designed to recognize those individuals who have impacted the lives of our students, both in and out of the classroom.
Our award, Excellence Counts, provides an avenue for district staff, parents, students, and community members to nominate and honor those people who have done their very best for District 215. Nominees for the award will be publicly acknowledged for their contribution and dedication at Board of Education meetings.
February 2023 Recipient: Barbara McDonald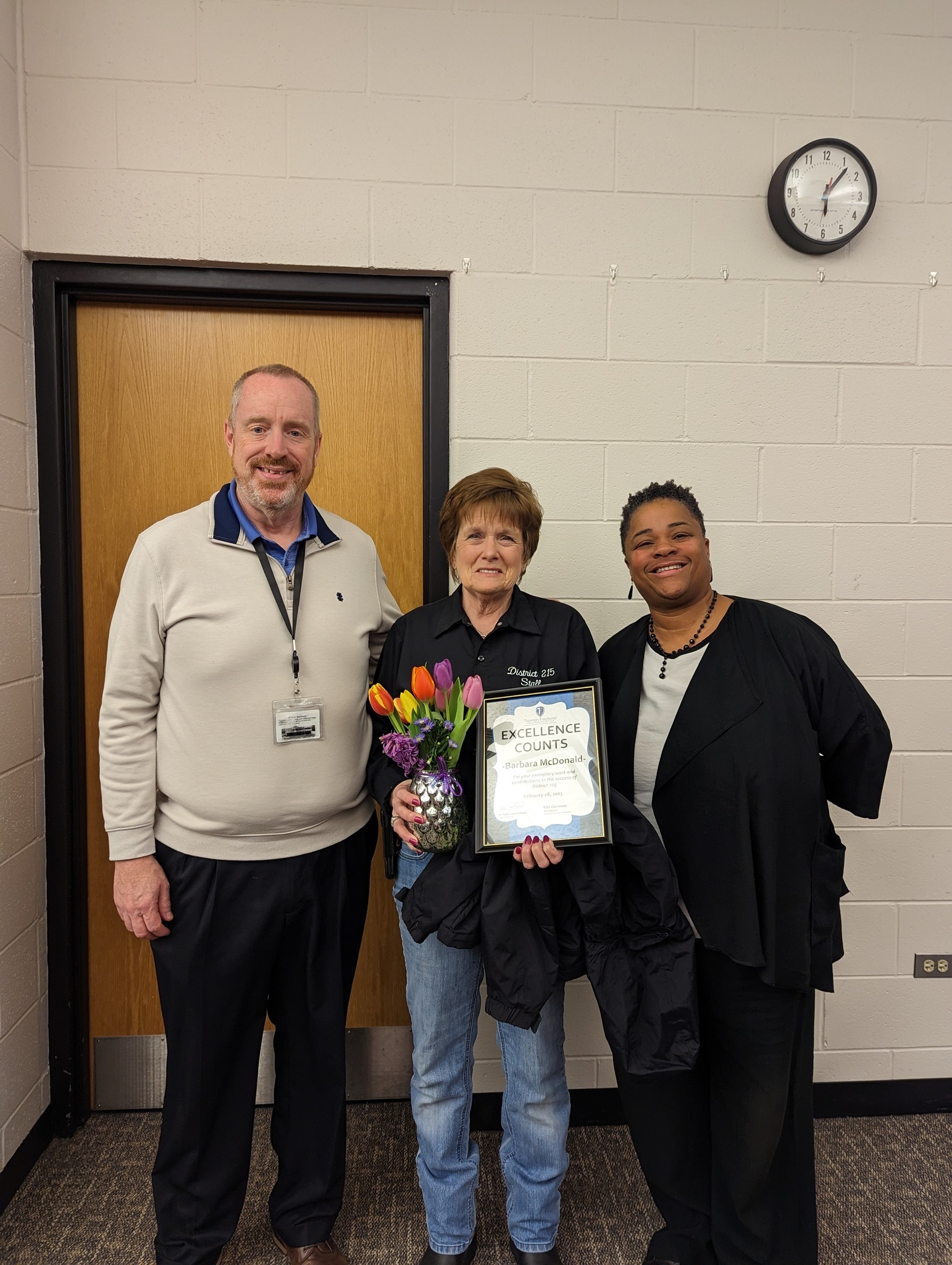 Barb McDonald is a graduate of TF South and a 27 year employee of the district, having spent most of those years at the CAT Center. Barb has been a loyal and dedicated employee. Her commitment and dedication to the students, staff and Board of Education are second to none. Her "old school" work ethic and calm demeanor has been an example for others to follow and will be greatly missed. We wish Barb well in her retirement.
November 2022 Recipient: Nyota Figgs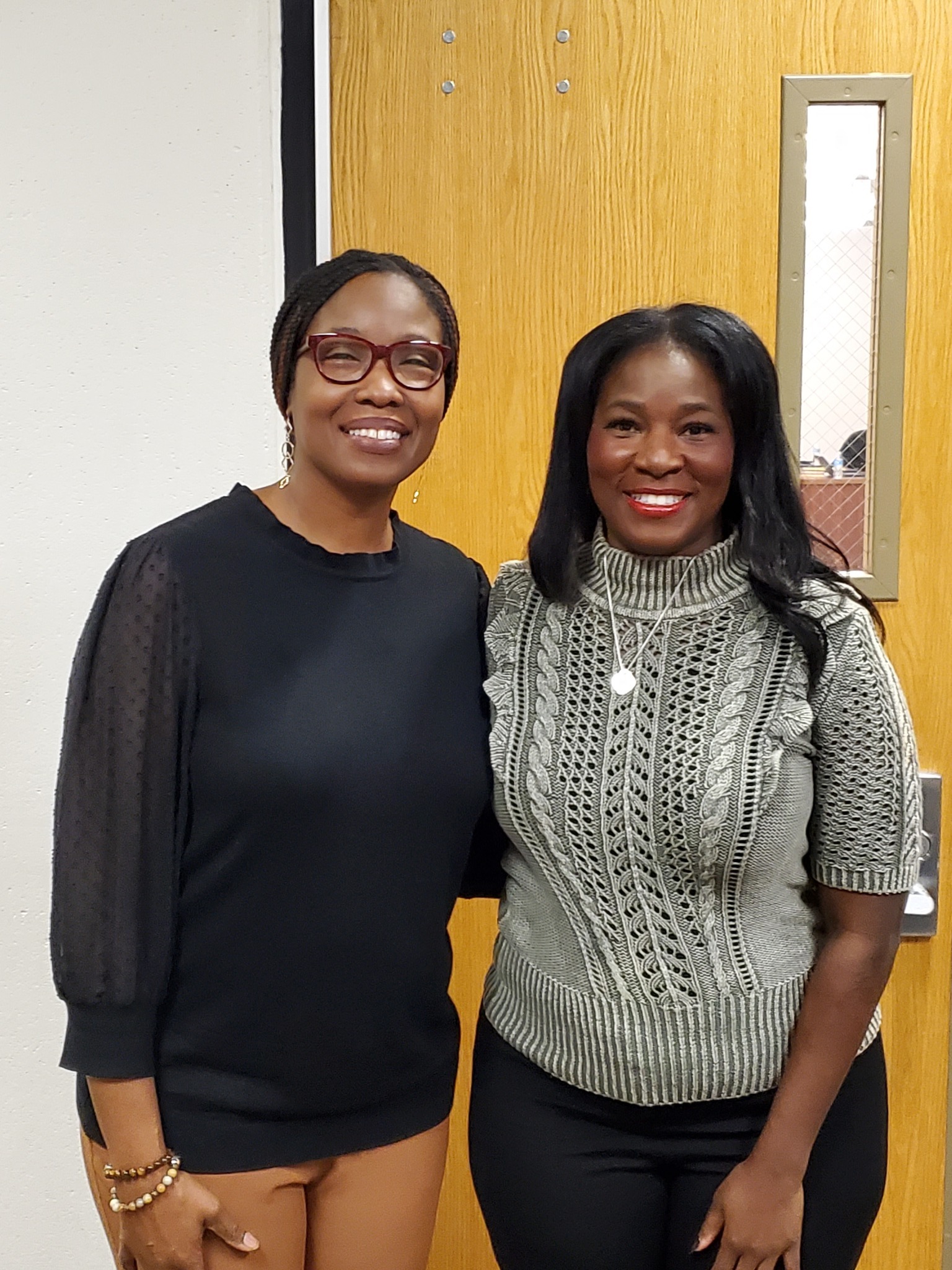 Ms. Figgs was acknowledged for her significant support for the students and families of TF North. She has consistently supported the Student Action Team's Thanksgiving Dinner and Veterans Luncheon. Ms. Figgs has partnered with parent liaisons on initiatives for TF North parents and is a steadfast source of support. She exemplifies the Student Action Team motto of "actions speak louder than words." We are appreciative of her support and efforts.
September 2021 Recipients: TF North Teachers Aaron Altenburg & Christopher Russo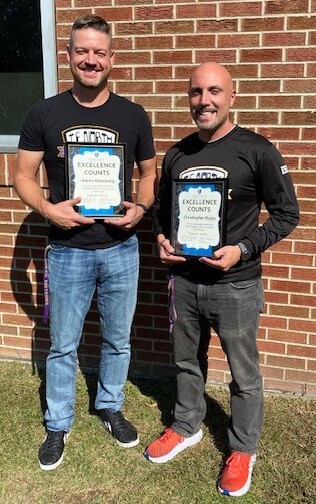 TF North teachers Aaron Altenburg and Christopher Russo were acknowledged with Excellence Counts Awards for raising around $20,000 for student scholarships with their Endurance 24 Challenge last spring! You can read about some of the details in the coverage by the NWI Times. Thank you, Mr. Altenburg and Mr. Russo! We are grateful for all you did and all you do each day!
August 2021 Recipient: Pastor Philip France, Living Grace Church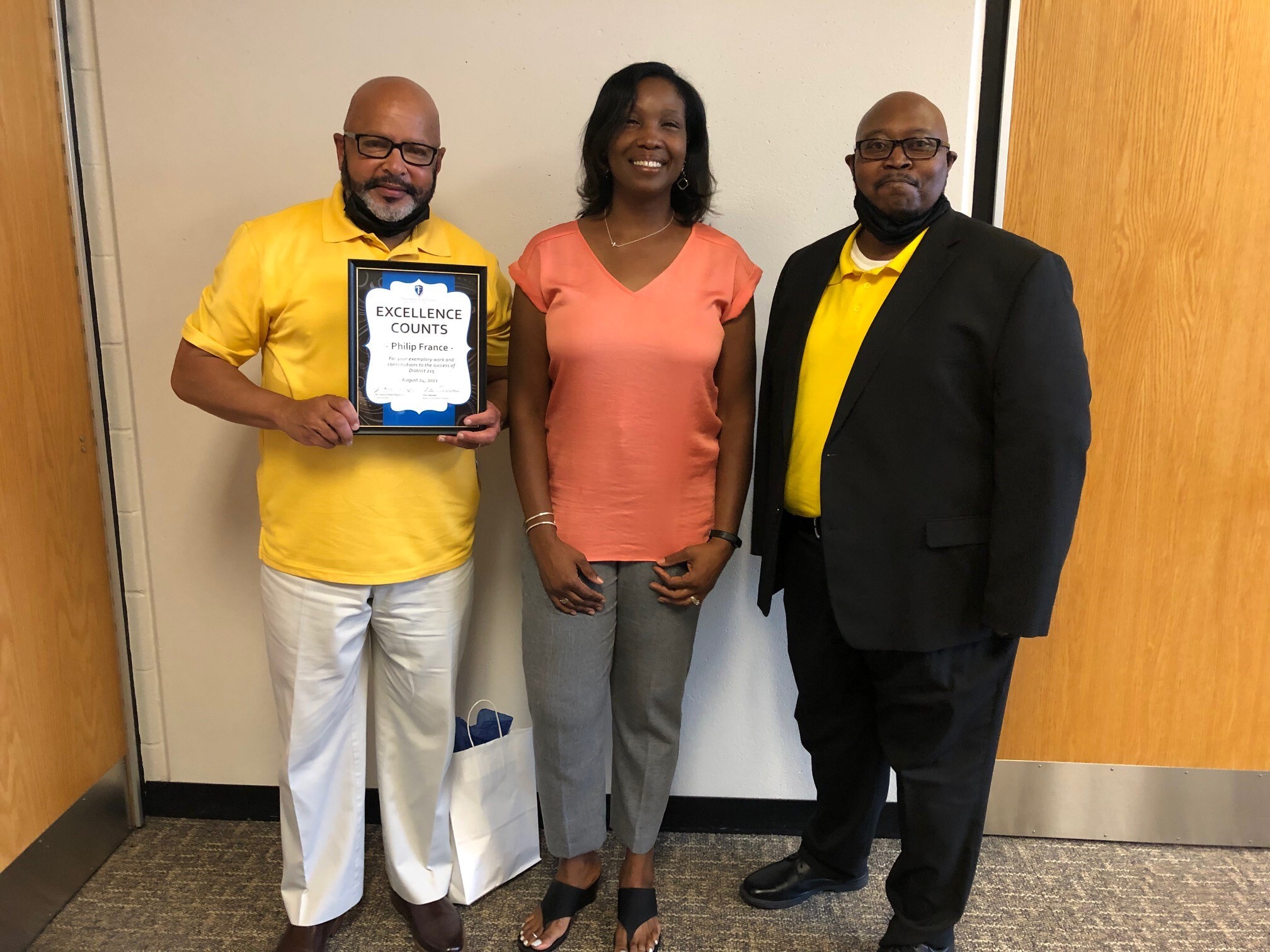 Pastor Philip France of Living Grace Church was acknowledged with a District 215 Excellence Counts Award for serving the students and families of District 215. Pastor France and his team provided 100 boxes of food biweekly to District 215 families for nearly all of the 2020-21 school year. Thank you Pastor France and Living Grace Church for serving our community!
May 2021 Recipients: Diane DeSoto, Librarian, TF North (pictured) and Gail Meyer, Librarian, TF South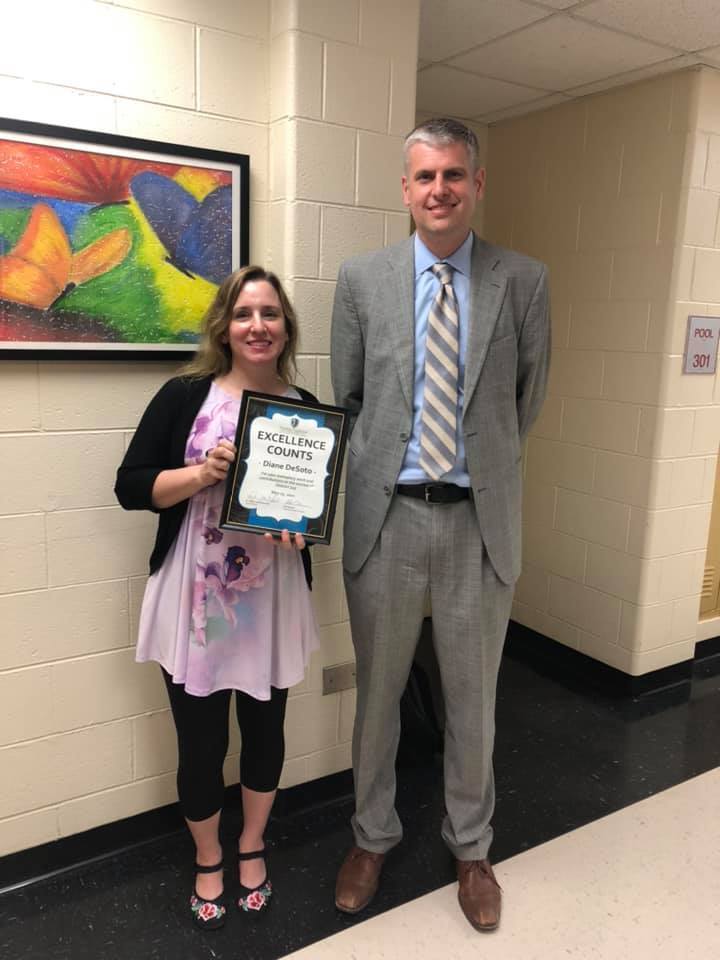 Ms. DeSoto & Ms. Meyer are embodiments of the mission and vision of District 215. Gail and Diane are innovative educators who, time and again, have gone above and beyond for students and staff, especially in the light of the COVID-19 pandemic. Recognizing immediately the tremendous implications the pandemic would have on our students, both reached out and volunteered their time and expertise in the Spring of 2020. They helped to guide technology decision-making to best ensure that systems and resources implemented would have an optimal impact on staff and students. They took the time to create and deliver professional development for staff, and they helped to train and support students. Their ideas, efforts and support were integral to the success of the District's remote learning rollout.
Thank you Ms. DeSoto and Ms. Meyer!
April 2021 Recipient: Susan Lessner, Science Teacher, TF South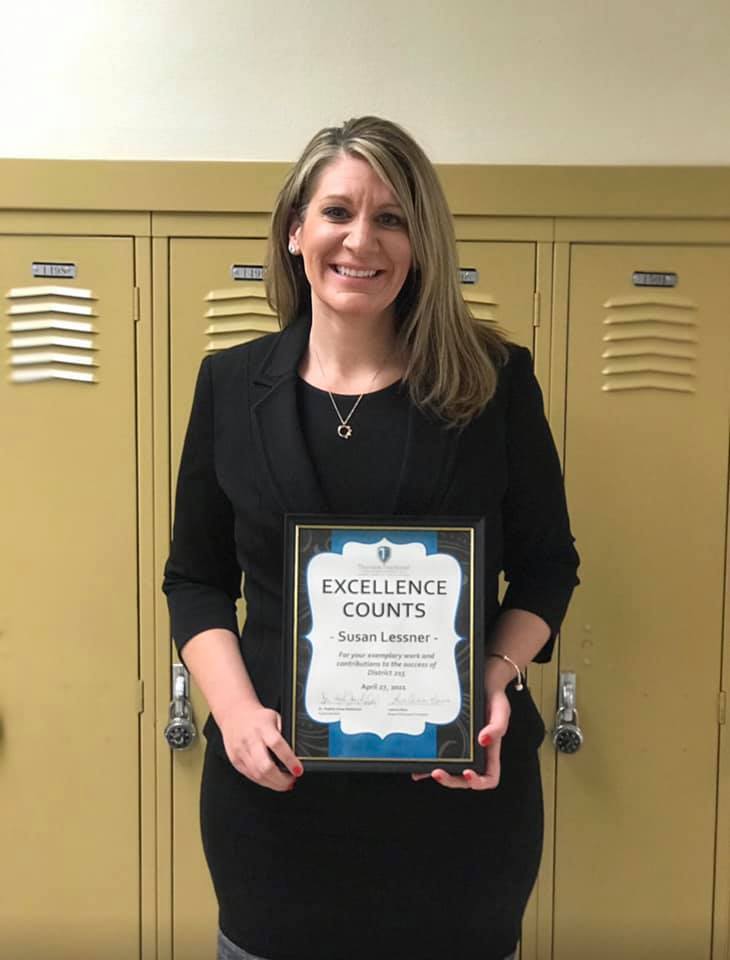 As a TF North alumna, Ms. Lessner has carried on a tradition of dedication and service to the entire District 215 community. She has denied the district none of her talents. From Golden Apple Fellow, to medical professional, to fierce teacher advocate, Ms. Lessner eats, breathes and sleeps District 215 and the district is better for it.
Ms. Lessner has worn multiple hats over the course of her tenure: teacher, coach, athletic trainer and Local 683 Executive Board Member are just some of the roles she has fulfilled over the years. Her commitment to the well being to her students and colleagues is something that deserves to not only be recognized, but honored and celebrated as well.
Thank you, Ms. Lessner!
March 2021 Recipient: Christian Hooper, District 215 IT Systems Specialist
Christian Hooper is always helpful when staff members have computer-related needs or issues. Mr. Hooper's job knowledge and dedication to District 215 and his coworkers are outstanding. He has an impressive work ethic, responds promptly to co-workers, and works effectively and patiently with District 215 employees. Mr. Hooper is a humble employee who goes beyond what is necessary to get his job done. He has a great attitude and is always willing to help his colleagues.
Thank you, Mr. Hooper!
August 2020 Recipient: Paul Wakefield, District 215 Director of Technology
Mr. Wakefield was hired as IT Director for District 215 in the midst of a challenging transition to a new student information system. That challenge was then compounded by leading the district through remote learning during an unprecedented pandemic. Mr. Wakefield has the amazing skill of putting people at ease during critical moments. His calm demeanor alleviates teacher panic and lessens anxiety of all staff members. His expertise in the IT field is evident and he troubleshoots problems creatively in conjunction with faculty members.
Despite the overwhelming amount of work, Mr. Wakefield consistently finds ways to help the staff at all campuses. His willingness to assist others and his commitment to educating District 215 employees is unmatched. He is quick to respond to requests for additional information by the staff and is thorough in ensuring all loose ends are completed.
Thank you, Mr. Wakefield!
January 2020 Recipients: District 215 Speech Pathologist Ayanna Dowd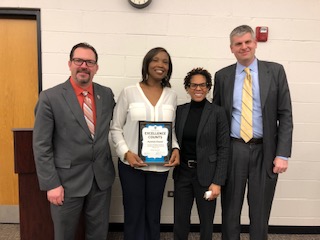 Ms. Dowd consistently and enthusiastically promotes and provides opportunities for students to be actively involved in community service as a co-sponsor of the Student Action Team at TF North, often including TF South students as well. She organizes and leads student participation in an annual community Thanksgiving dinner at TF North, an annual holiday food drive, an annual Veteran's Day luncheon, and provides volunteer opportunities for students with the Chicago food Depository, Ronald McDonald House, and more. Ms. Dowd works with community businesses and organizations to secure support and donations for many of these events, and she also helped secure donations for the College Signing Day events at TF North and TF South. Thank you, Ms. Dowd!
Ms. Dowd is pictured above with TF South principal Jake Gourley, Superintendent Teresa Lance, and TF North principal Brian Rucinski.
TF South Parent and Sam's Club Employee Jesenia Rodriguez
For the past three years, Jesenia Rodriguez has embodied the concept of community. Ms. Rodriguez has consistently supported the efforts of endeavors such as our Parent-Teacher Conference Raffle, annual Thanksgiving Dinner, annual Veterans' Luncheon, and most recently our College Signing Days. Ms. Rodriguez has never said no to a food/gift card donation request. As a TF South parent, she is committed to strengthening our community partnership and improving the lives of our students. Her partnership and that of Sam's Club, helps students and the community. Thank you, Ms. Rodriguez!
October 2019 Recipients: First United Methodist Church & Increasing Faith Ministries: Bob Wood, LeVar Young, Dave Price
Mr. Wood, Mr. Young, and Mr. Price have been instrumental in the creation and growth of Walk Over Wednesdays. Now in its third year, the program involves polling student leaders for ideas and providing volunteers to host and supervise after-school activities on early dismissal Wednesdays. Students who are finished with classes at 1:40 p.m. have a safe place to play basketball, volleyball, other games; study; or even grab a modestly-priced snack before returning to school at 3:15 p.m. for sports practices, games, or activities. Thank you Mr. Price, Mr. Young, and Mr. Wood for making a difference for our students and community!
Nomination Forms
Know someone who deserves recognition?
Download the nomination form below!


Excellence Counts Nomination Form