District 215 has an abundance of committed individuals - teachers, support staff, parents, and community members - who work unselfishly to make our schools and district successful.
Excellence Counts is an award that the Board of Education designed to recognize those individuals who have impacted the lives of our students, both in and out of the classroom.
Our award, Excellence Counts, provides an avenue for district staff, parents, students, and community members to nominate and honor those people who have done their very best for District 215. At each monthly meeting, the Board of Education will publicly acknowledge and honor Excellence Counts nominees for their contribution and dedication.
January 2018 Recipient
Miguel Gutteriez
Miguel has been a valued member of District 215 for more than 15 years. He always goes above and beyond in showing leadership, support and encouragement to fellow co-workers at the District. His innovative ideas help make District 215 shine that much brighter. Here, he shows award with Supervisor Brandie Edwards (L).
Doug Edwards
Doug Edwards, who is in accounts payable, was recognized during a November 2017 Board of Education meeting for his positive attitude and work ethic at District 215.
Here, he shakes hands with Charles DiMartino (r).
Below is an excerpt from Doug's nomination.
Doug Edwards knows his job and does it well. But there are several other of his endeavours that have positively impacted the district. He has assisted in contract negotiations with vendors, such as Otis Elevator and Pitney Bowes; coordinated resolution meetings with vendors such as AT&T, T-Mobile, and Nicor. He manages the general district procurement card and the gas procurement cards for all the vehicles in our district. Outside the office, he annually volunteers for the mock interviews at North and South, and is a speaker at Honors History classes sharing his experience while employed at the World Trade Center.
Phylicia Burford
Phylicia Buford, North Executive Chef, was recognized during the November 2017 Board of Education meeting for her outstanding service to District 215.
Here, she shakes hands with Dr. Creg Williams on her Award of Excellence.



Below is an excerpt from Phylicia's nomination:
Phylicia has been with the district for eight years and within this time has become a well-rounded individual. She has continuously demonstrated a wide range of abilities from cook to supervising her staff, managing her orders and budgets in a timely manner. Phylicia has been willing to learn additional managerial duties outside the scope of her job and goes beyond the call of duty to help when needed.
Karen Lake and Mitch Johnston
Karen Lake, TF North Publicity Representative and Math Aide and Winged Foot Foundation Founder Mitch Johnston were recognized during the March 2015 Board of Education meeting for their contributions to District 215.
Karen is pictured below after the ceremony.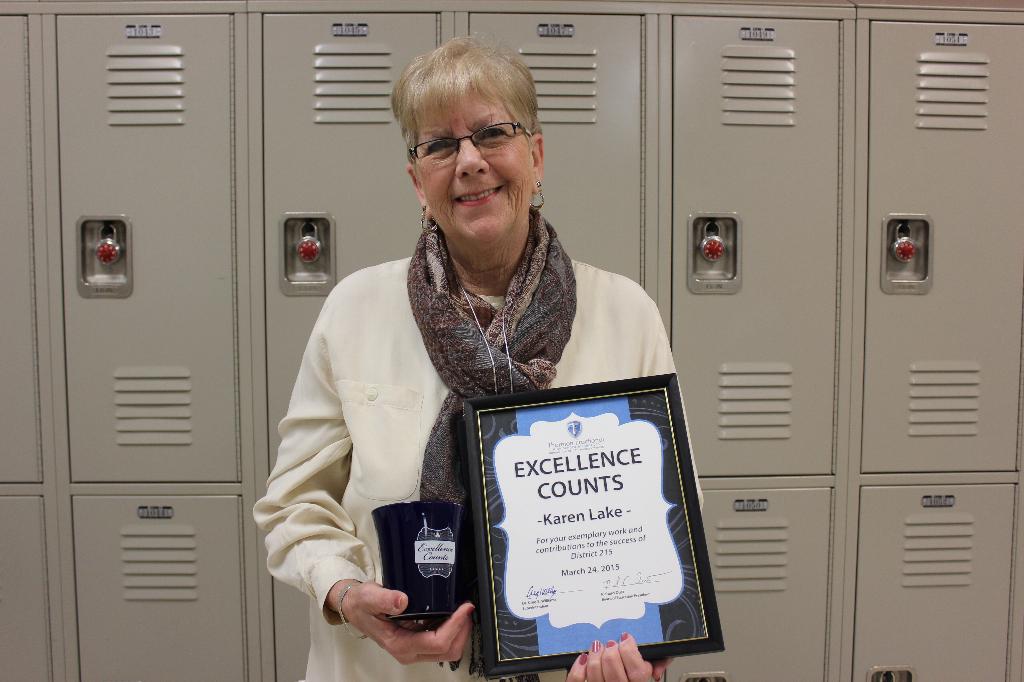 Below is an excerpt from Karen's nomination:
"In the 90-year history of TF North, there has been no greater cheerleader than Karen Lake. There are no events or activities that take place at the school without her participating in the planning, implementation, or promotion processes. Though she generally prefers to stay silent in the background - capturing and promoting the accomplishments and successes of others through photographs and words - her work speaks volumes about her dedication to TF North students and staff. Karen is the epitome of a dedicated employee; she comes early, stays late, and consistently goes above and beyond what is asked of her. Somehow, Karen has managed to make it to every major event and document the accomplishments of students participating in the school's extracurricular activities. She is currently in the process of reviving the school's booster club. As someone who does not seek and in fact, shies away from praise, it is my sincere hope that Karen is recognized for her outstanding contribution to the District 215 community."
Mitch (left) is pictured with Moses Hubert, TF Center Dean of Students (right)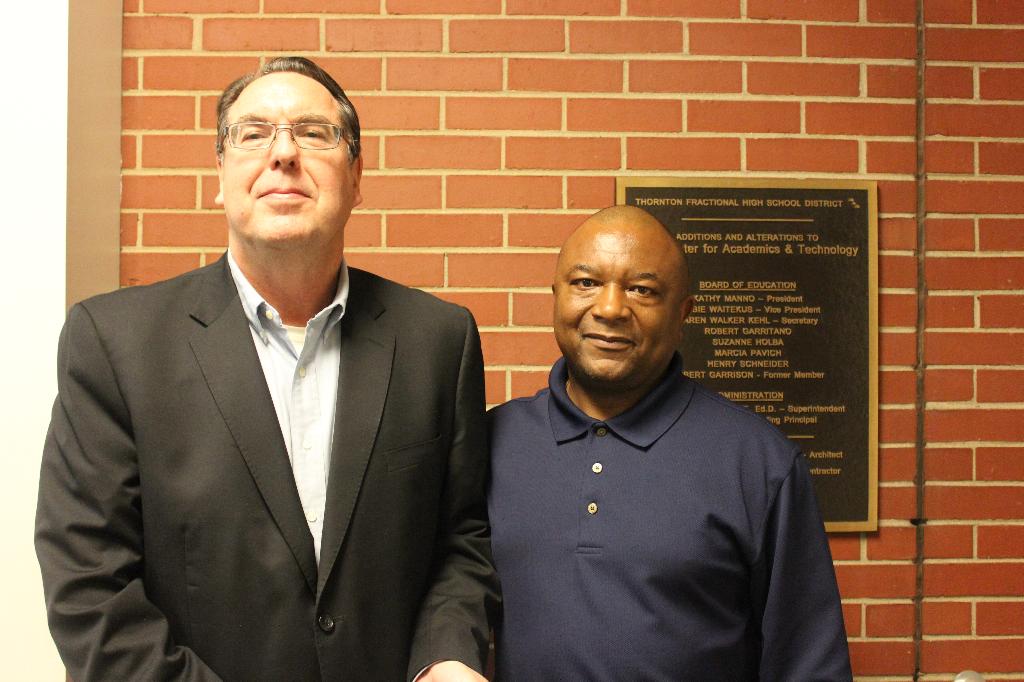 In the statement below, Moses describes how Mitch has positively impacted District 215.
"Mitch Johnston, founder of the nonprofit Winged Foot Foundation has graciously granted our wishes for athletic equipment each year for the past five years. Mitch, who is originally from Dolton, has been a generous supporter of our TF North girls' and boys' track and cross country programs. Through his nonprofit organization, he has donated hundreds of running shoes, cross trainers, running spikes, and athletic gear to our athletes. His donations have bene invaluable because many of our students could not afford to participate otherwise.
Nomination Forms
Know someone who deserves recognition?
Download the nomination form below!


Excellence Counts Nomination Form