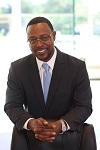 John Robinzine
Principal, Thornton Fractional Center for Academics and Technology
John Robinzine is T.F. Center's newly-appointed Principal and Director of Career and Technical Education entering his 18th year as an educator. He also serves as the Title IX Nondiscrimination Coordinator and as one of the district's complaint managers. During his career with District 215, he spent seven years teaching a variety of social studies courses and also dedicated four years as the assistant and head track and field coach before pursuing an educational leadership role. John also served as an Assistant Principal and Credit Recovery Program Coordinator at T.F. South. He has held several other leadership roles at T.F. South, including co-chairing curriculum committees, the Early Intervention Program (EIP), and T.A.C.T (Tolerance, Acceptance, Community, and Togetherness), a committee of staff and student volunteers that organizes efforts to build and maintain a positive school climate. John also developed a community service program in an effort to involve students in community service activities in-lieu of suspensions. John holds a Bachelor of Science degree in Social Science Education and earned a Master of Arts degree in Educational Leadership from Governors State University. He is currently pursuing his doctoral degree from Concordia University Chicago.
Lisa Bouler Daniels
Assistant Principal, Thornton Fractional Center for Academics and Technology
Lisa began her career in education almost 25 years ago as a part of the Chicago Public School System where she taught Language Arts at the middle and high school levels. For 20 years Lisa has been a part of District 215. She started at T.F. South as an English teacher, cheerleading coach, and Senior Class sponsor. She also worked with at-risk students in the Truant's Alternative Options Education Program and as Career Specialist for the Jobs for Illinois Graduates program. Lisa has been the Assistant Principal at T.F. Center since 2008. She graduated from Northeastern Illinois University and received her master's degree in Administration from Governor's State University.