Student Artists Showcase Work In SSC Exhibit, Win Awards
Student Artists Showcase Work in SSC Exhibit, Win Awards
March 6, 2015
Throughout the month of February, artwork made by students from TF North and more than 20 other high schools in Illinois and Indiana was on display in the 20th annual South Suburban College (SSC) Regional High School Student Art Exhibit & Festival. More than 14 TF North students had their work, which includes sculptures, paintings, and drawings, showcased in the galleries and display cases located on the fourth floor of SSC's main campus in South Holland.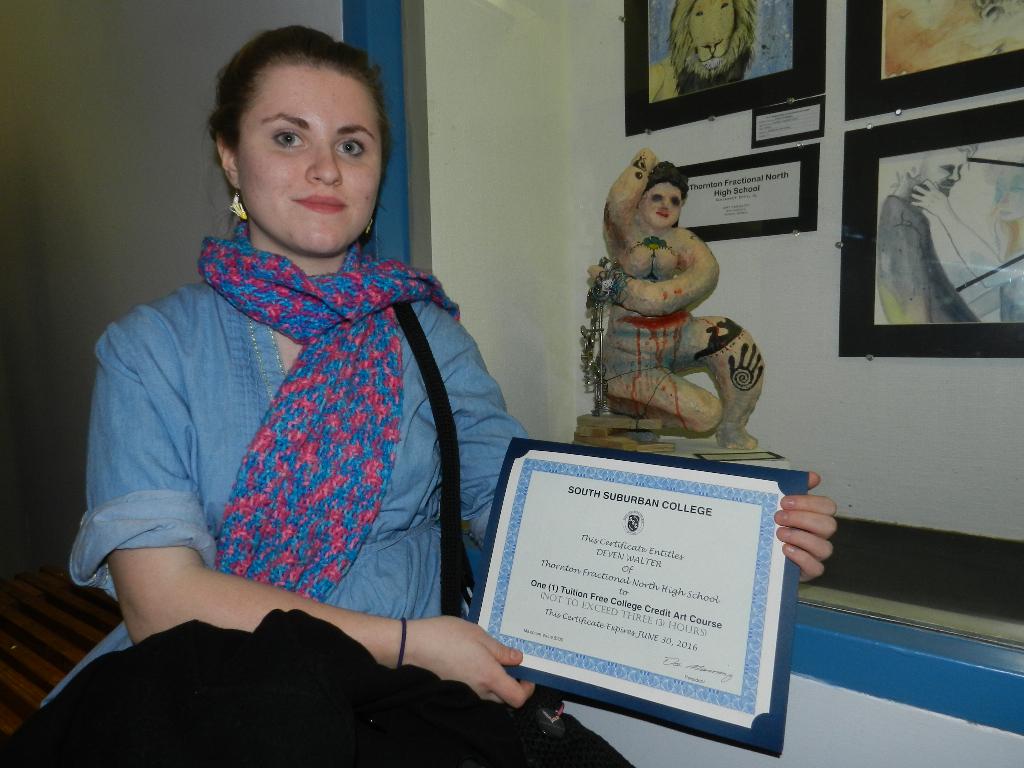 During the closing festival award ceremony on Friday, February 27th, two TF North students won awards for their work. Junior Deven Walter won an Award of Merit and a scholarship for one tuition free college art course at South Suburban College. Mercedes Castro, a TF North senior, won the Best of School award.
TF North alumna and current art teacher Megan Weber pointed out that the SSC exhibition provides an opportunity for students to not only display their artwork but to learn from the experiences of nationally recognized artists. During the festival, local artists will share their experiences in the industry.
District 215 has a variety of art classes to choose from including painting, graphic design, and sculpture. The District 215 board of education hosts an annual art appreciation award in which one student from each of its campuses are recognized for their work.
Participation in activities like the SSC Exhibition, according to Superintendent Dr. Creg E. Williams, highlights the district's commitment to ensuring that students receive real-world learning opportunities that complement traditional classroom experiences.
Pictured: Deven Walter